From Bloomberg
As U.S. Treasury Secretary Henry Paulson prepares to meet counterparts representing the world's biggest economies, he carries some extra baggage on the plane to Africa.

It's the 13-year-old ``strong'' dollar mantra.

Paulson, like his four predecessors, has stuck with former Treasury chief Robert E. Rubin's phrase that a ``strong'' dollar is in the U.S. interest. Officials repeated the phrase whether the dollar was rising or falling. Now, Paulson is under pressure from European policy makers to more forcefully defend the currency after it fell to a record low last week.

``It's increasingly urgent that the U.S. bolsters its rhetorical position,'' said Ernest-Antoine Seilliere, president of BusinessEurope, the European Union's employers' federation. Paulson should avoid a ``collapse of the U.S. dollar,'' he said.
Here are the daily and weekly dollar charts, respectively: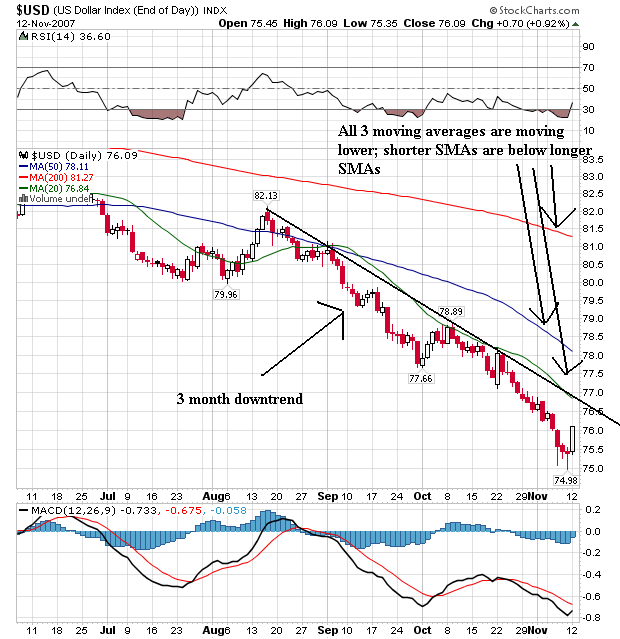 Both these charts are classic bear market charts. Notice
1.) Prices have been moving consistently lower for some time. There is a two year bear market trend in place.
2.) All of the simple moving averages (SMAs) are moving lower
3.) The shorter SMAs are below the longer SMAs
4.) Prices are below the SMAs, which will pull the SMAs lower.