From the WSJ:
Morgan Stanley said it is firing about 600 employees in its residential-mortgage businesses. The cuts, which primarily affect sales and administrative staff, account for about one-fourth of the New York investment bank's home-lending work force, said a person familiar with the plan. Morgan Stanley, which last year paid $706 million to buy mortgage-lending and servicing firm Saxon Capital, said about 500 people will be fired at its three mortgage units in the U.S. and about 90 at Advantage, its United Kingdom home-lending unit.

........

Zurich-based Credit Suisse will cut 170 positions. Last month it cut about 150 residential-mortgage jobs. Most of the latest cuts will be made in the commercial-mortgage-backed securities area, a spokeswoman for the bank said. "In the current market environment, we have made targeted reductions to adjust our capacity to meet diminished client demand," the bank said in a statement.

The announcements follow layoffs of hundreds of residential-mortgage employees at other securities firms and likely presage even broader cutbacks at many investment and commercial banks. (Meanwhile, Countrywide Financial Corp., the nation's biggest home-mortgage lender, has launched a campaign to shore up its image.
Financial service jobs have performed well during this expansion. Here is the chart of financial service jobs from the BLS. It goes back to 2001: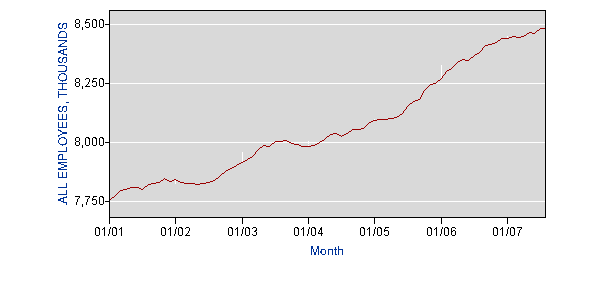 However, there have been a ton of lay-offs since the mortgage mess started to worsen at the end of last year. According to the mortgage lender
Implode-o-meter
161 major US lending operations have "imploded". Yet over this time, financial service jobs have continued to increase. How long can that trend last in the current environment?