I'm going to start with the daily chart today because the market may be entering a trading pattern of sorts. Before yesterday's rally, the market had been "bumping and running" along the 10 day SMA. The market would make a big gain and then trade sideways until it hit the 10-day SMA again. On hitting the SMA the SPYs would again rally. As the daily chart shows, today we had a "breather" -- the market treaded water after yesterday's advance.
On the 2-day, 5-minute chart you can see the market closed very near the open.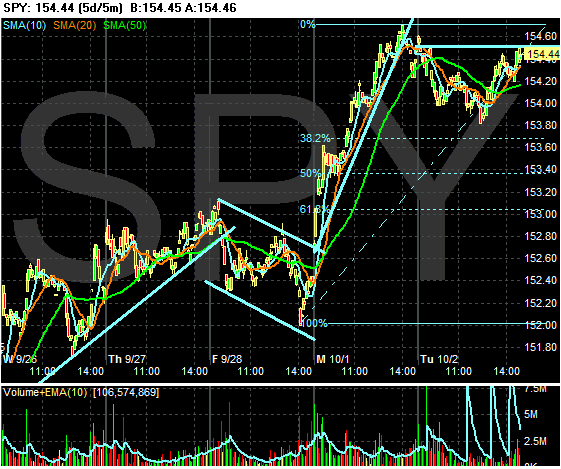 On the 5-day chart pay particular attention to the Fibonacci levels. The last time the market advanced and then traded sideways it used the Fibonacci levels for support and resistance. While past performance is not a guarantee of future performance, it is important to know what happened because this might shape traders decisions over the next few days.
I wanted to add that so far, the Fed's rate cut has put a floor under the market. Over the last two days we have had some terrible economic news. Consider that in the last two days
1.) Citigroup and UBS announced big hits from credit losses
2.) Car sales are down, and
3.) Pending home sales are at an all time low.
Yet the market either rallied or stood still on this news. All of these negative events give further ammunition to traders who are betting on another rate cut. Hence, the implied floor in the markets.