From Marketwatch:
Crude-oil futures marked their highest closing level ever for a benchmark contract on the New York Mercantile Exchange Tuesday after some of the world's major oil producers decided to raise their daily output by 500,000 barrels per day, starting Nov. 1.

Traders had a difficult time digesting the news. Initial reports following the announcement from the Organization of the Petroleum Exporting Countries weren't clear as to whether the increase was to the cartel's official production quota or to its actual output, which has been estimated at about 1 million barrels above the quota.

But "what OPEC did was raise its production target from 25.8 million barrels per day to just over 27.2 million barrels per day -- an increase of about 1.4 million barrels per day," said Kevin Saville, a managing editor at Platts, who is on site at the meeting in Vienna.
It's been awhile since we looked at the chart, so let's see what they say.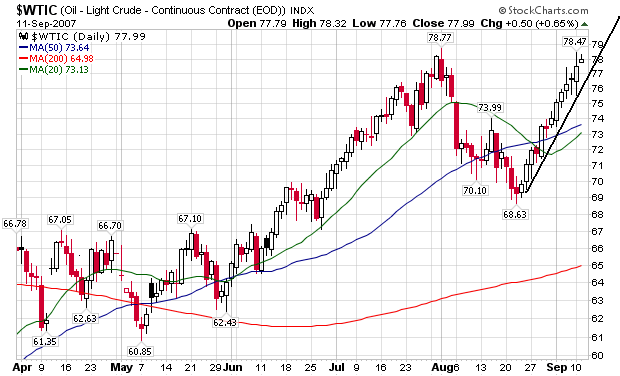 On the daily chart, we have a simple, upward trendline. We also have three moving averages moving up. That's pretty straightforward.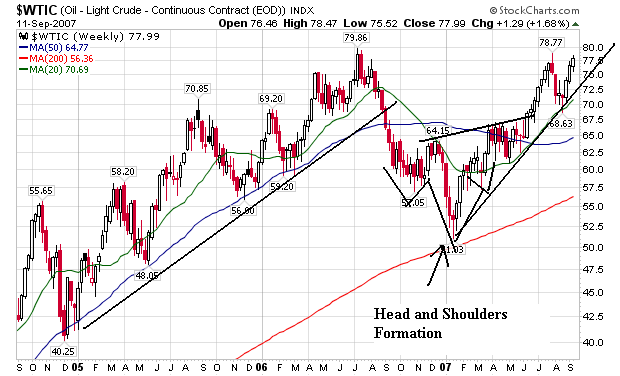 On the weekly chart, we see the sell-off last year when Goldman rebalanced their energy index. From the winter of 2006 to the spring of 2007 the index consolidated in a head and shoulders formation and has rallied since. There are all three SMAs moving up. In short, this is a pretty bullish chart.
There are some
fundamental issues driving oil prices higher.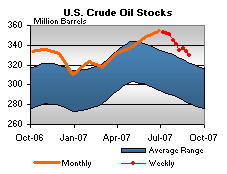 While oil stocks are clearly above their historical range, they have been decreasing for the last two months or so. Decreasing supply = increasing price.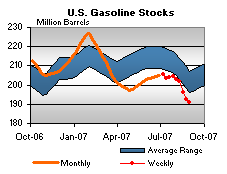 Gas stocks are clearly at very bad levels. The disconnect between the fairly high oil inventory relative to the low gas stockpiles indicates there may be some problems in the refining market.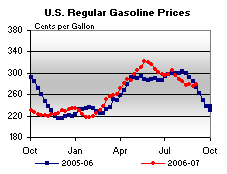 Gas prices usually start to drop in the fall after the end of the summer driving season. However, with gas stocks so low, I have to wonder if prices will remain elevated through the fall -- at least at levels higher than last year.