A commenter made a really good observation:
Bonddad, permit me to offer an observation regarding the need for the transports to confirm the industrial's rise. That approach was valid for an extractive and manufacturing economy in which things get moved around.

In a service/information economy, wouldn't a better confirmation be found in an index focusing on telecommunications and maybe airlines? Those would represent the transport of electrons and people involved in passing information between operating nodes.
First, I still think a confirmation from the Transports is vital for two reasons. First, the US still makes things. Secondly, the US consumes a great deal and a lot of the products we consume come from overseas which still have to get to the retail level.
However, I also think that a confirmation from telecommunications is a very interesting idea. The US is shifting to a more information/knowledge based economy so for the economy to grow communications would also have to grow.
To that end, here are three charts of the
TTH
or Telecom Holders Trust.
Three Year Chart/1 Week Time Frame
The three year chart is very straightforward. The index rallied from mid-2006 to mid-2007 and then sold-off. The index broke the uptrend in early August of this year.
1 Year Chart, 1 Day Time Frame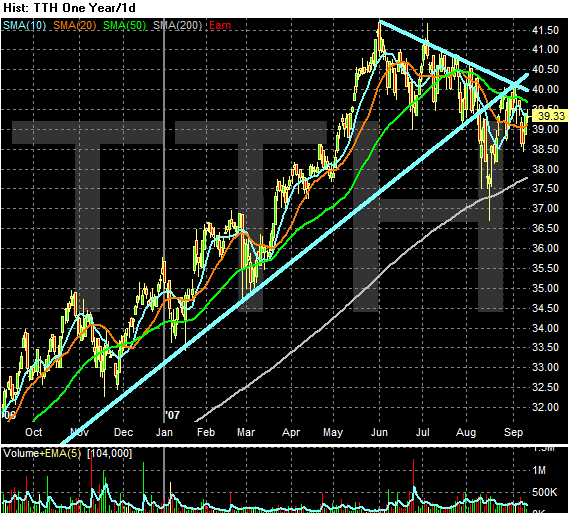 The one year chart simply offers more detail of the change in trend and the trend break. What's encouraging about this chart is the drop has been gradual and disciplined. Aside from the sharp drop in early August when all of the indexes dropped sharply.
Six Month Chart, 1 Day Time Frame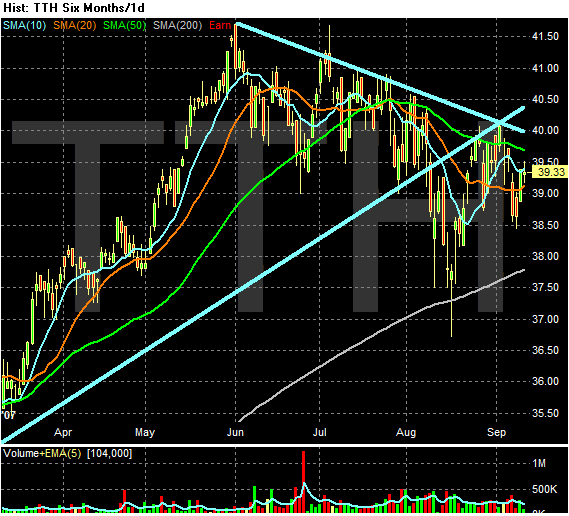 The six month shows a chart that is clearly moving lower, but in a very disciplined way. Notice the following.
1.) The index dropped to a level above the 200-day moving average and then rallied. That means at minimum traders don't want to send this index into bear market territiry.
2.) The three shorted SMAs (10,20 and 50) are all moving lower, although the degree of the drop is gradual.
I want to add that I'm not completely sold on this idea. It's not that it's a bad idea by any stretch of the imagination. It's that there area a lot of ins and outs that need to be thought through. However, it's a damn good observation and one that deserves serious consideration.