From the WSJ:
A weaker greenback gives oil producers an extra incentive to drive prices higher: Oil is denominated in dollars on the global market, so producers are being paid for their output in less-valuable currency.

Late yesterday in New York, one euro bought $1.3962, compared with $1.3201 at the start of the year, a 6% weakening of the dollar. One gauge used by the Federal Reserve shows the dollar at its weakest in a decade as measured against a broad range of currencies.

Oil reached an intraday New York Mercantile Exchange record of $82.51 a barrel yesterday before closing at $81.93, up 42 cents, or 0.5%, on the day and 34% higher for the year. That is still well off the high, in inflation-adjusted terms, above $100 in 1980. Since the start of 2003, when one euro bought just $1.05, crude's price has risen 163%.
Let's look at a few charts.
The weekly oil chart shows this market selling off at the end last summer. It consolidated in a head and shoulders pattern over the winter and has been rising since. Remember at the end of last summer Goldman Sachs rebalanced their energy benchmark which was a big reason for oil's price drop. In other words --
last summer's drop was extremely technical and not fundamental.
On oil's daily chart we have a consolidation area this spring followed by a rally, profit taking sell-off and then another rally. Currently, all three moving averages are moving up and the 20-day SMA just crossed the 50 day SMA. The shorter SMAs are above the longer SMAs. This chart says buy me in a pretty big way. Driving the market now is a
decrease in US gasoline stocks.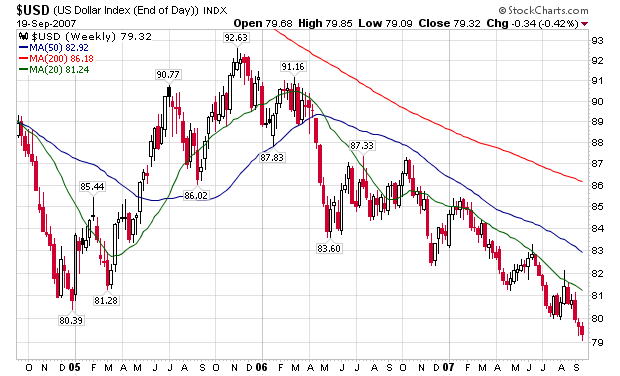 The long-term dollar chart is extremely bearish. All the SMAs are moving lower and the shorter SMAs are below the longer SMAs. This chart says sell me pretty convincingly.
From yesterday's CPI report:
Despite registering declines in each of the last three months,

the index for energy increased at a 12.7 percent SAAR through August. Petroleum-based energy led the acceleration with a 22.7 percent increase at an annual rate. Last year the overall energy index rose 2.9 percent.
Yesterday's CPI report will be an statistical anomaly. I'm expecting energy prices to be a big problem within the next 6-9 months. If I'm right, then consumers will have to choose between filling up and buying Christmas presents.
And it's not just
oil that's a problem:
Not only oil is affected.

Most commodities are denominated in dollars, and commodity producers are often paid for in dollars, so commodities prices in general have risen as the dollar becomes less valuable.