Or -- yesterday's markets.
First, thank to the
Big Picture
for linking to the post below.
Now -- let's see what the markets did yesterday.
Can anyone identify when the Fed cut rates yesterday? Seriously -- the markets were extremely pleased with the Fed's actions yesterday as the huge spike in price and volume indicate. This chart is pretty straightforward.
The 7-day chart shows the market's consolidation over the last few days provided a nice base to work off of for a further rally.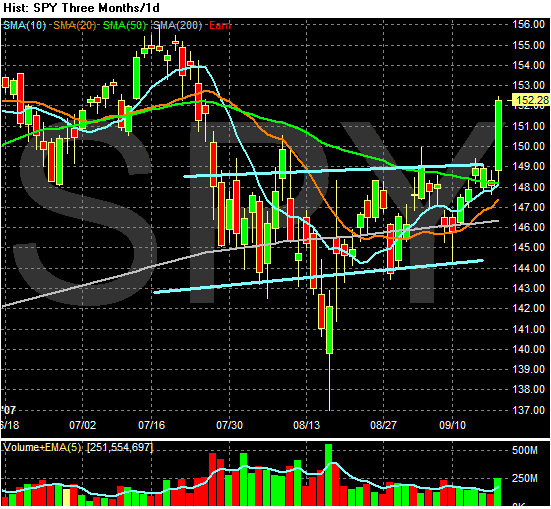 Finally, we have the daily chart which shows the markets made a clean break from the trading channel of the last month and a half. The market made a big move higher on strong volume. These are strong technical movements. What the market needs now is follow-through.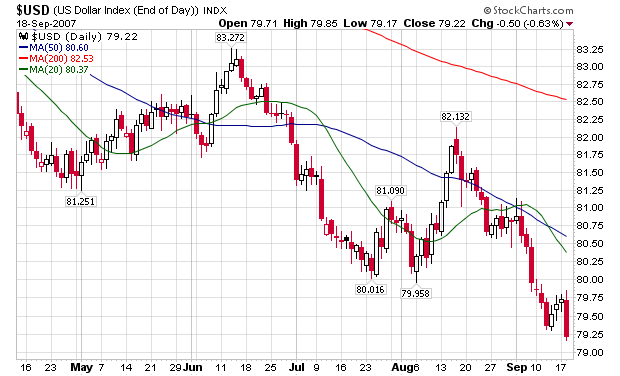 Finally, we have the US Dollar which is obviously not a beneficiary of the latest move by the Fed. Forex traders area obviously betting against the dollar now in bigger numbers. Don't expect this trend to diminish anytime soon. This is the soft under-belly of the Fed's move. The dollar is now more vulnerable to downside pressure. That could be a very bad development.
From today's WSJ:
The dollar sank against other major currencies in international trading Wednesday, as the Federal Reserve's sharp interest rate cut overnight eroded its yield advantage and fueled concern that the U.S. economy's outlook may be gloomier than expected.

The dollar dropped to a record low versus the euro, rising as high as $1.3987 in morning European trading before settling back to $1.3981, above the $1.3971 it bought in late New York trading the night before. The U.S. currency fell below $1.0100 against the Canadian dollar for the first time in nearly 30 years. The British pound rose higher against the dollar, too, reaching $2.0157, slightly above the $2.0131 it fetched late Tuesday in New York.

....



"Some players are wondering if the Fed's decision suggests that the U.S. economy will go from bad to worse in the near future," said Michiyoshi Kato, a senior trader at Mizuho Corporate Bank. "If that is the case, it's very difficult to buy the dollar now."