From the WSJ:
Warren Buffett is taking a ride on the rails.

Railroad operators have benefited in recent years from a boom in overseas demand for commodities, U.S. hunger for foreign goods and restrained competition from their big rival, trucking. And thanks to earlier waves of consolidation that left only a handful of public U.S. railroad companies, their earnings and their stocks have attracted investor attention.

So, the billionaire investor's bet on Burlington Northern Santa Fe Corp. is the latest sign that the resurgence in railway stocks has some strength over the long haul.

.......

"The business model is a good value at this price, with not much substitute product out there in terms of competition, and it has pricing power," says David Carr, co-manager of the Oak Value Fund, part of Oak Value Capital Management, which has net assets of $148 million. Berkshire makes up 9% of the fund.
The bold sections in the last paragraph are key to Buffet's thinking on this move. He likes companies that have near-monopolies on key products. This is why he purchased the Washington Post a long time ago -- it was the only paper in the nation's capital and it had a strong brand name. The same is true of the remaining publicly traded railroads.
Here is a chart of the railroad sector from Prophet.net: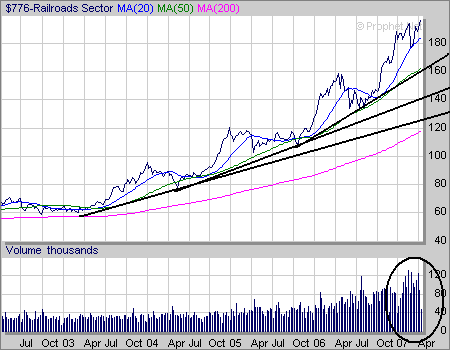 This is an interesting time to buy, at least according to the chart above. Technically, it appears the railroad sector may by topping out. We've had a long bull run of at least 4 years. The recent high-volume activity at what appears to be a top could be classified as a buying climax -- a market period where there is a ton of selling at a a top, but prices don't move considerably higher. Notice the chart could be forming a double-top, or it could be moving through resistance to achieve higher prices.