From IBD:
Near-month oil futures shot up on fuel supply fear a day after gov't data showed another big drop in gasoline and heating oil stockpiles. The Fed's near-neutral bias Wed. raised hopes for stronger U.S. growth and energy demand. April RBOB gasoline rose 2.26 cents to $1.9575 a gallon, near Tues.' 7-month high. High gas prices could hit ailing U.S. consumers.
There's more:
Nationwide prices rose 1.8 cents last week to $2.577 a gallon. That's 7 cents higher than a year ago. U.S. gas prices have surged more than 36 cents in the past six weeks.

Demand was up while supplies of both gasoline and crude oil remained below year-ago levels.

Refineries are at capacity and gasoline imports are down. Gas futures are at their highest since August — suggesting retail prices have further to go.

"You put it all together and it's just very bullish for gasoline prices," said Phil Flynn, an energy analyst at Alaron Trading. "Don't expect these problems to go away."
Here's why.
Oil inventories are lower now than they were at this time last year: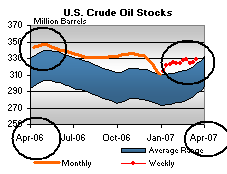 And gas inventories are dropping fast and hard: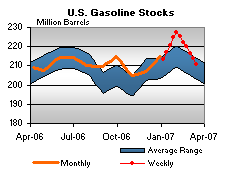 As a result, gas prices are increasing: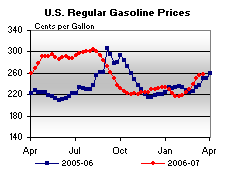 This is why the daily oil chart spiked yesterday: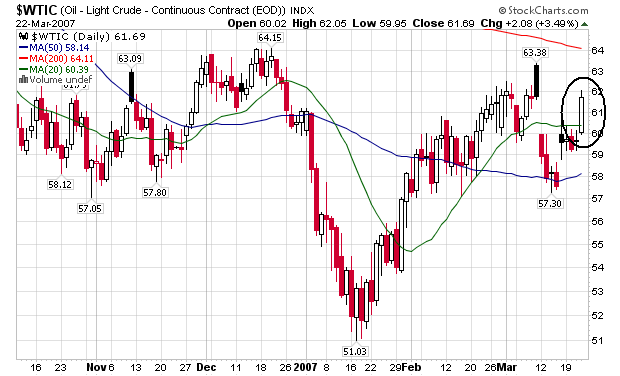 From a longer term perspective, oil prices appear to be consolidating in a triangle pattern:
I bet the Federal Reserve is not happy about this development....
Some of these charts are from the Department of Energy's
This Week in Petroleum