It was a light week for data, but what data there was continued to show economic expansion.
The
BLS
reported initial jobless claims of 502,000, and the 4 week moving average declined to 519,750, the lowest in a year.
The
ICSC
reported that same store retail sales declined -0.1% WoW, the first decline in 7 weeks, but YoY sales improved to +2.9%. They also said that "same-store sales for November could be as strong as +5.0- +8.0 percent [YoY] for the month."
Shoppertrak
finally also joined in reporting positive numbers. For the week ending 11/7/09, they reported a Year Over Year % Change of 0.1%, and a Week Over Week % Change of 4.8%.
Oil
declined slightly under $80 to about $78, so there is still a little rationality in that market.
The
Daily Treasury Statement
through November 10, showed payment of $47.4 million in withheld state and local taxes for the month so far, compared with last year's $51.6 million on the same date, indicating state and local government's in severe distress even compared with last year (this is a lagging indicator which tends to bottom about one quarter after the end of a recession on an absolute basis).
The most interesting weekly statistic, however, was
rail traffic
, which held steady. Why is that interesting? Because by now rail traffic should be well into its seasonal decline (last year the decline was a "cliff dive"), but traffic has generally held steady at September-early October's levels or even improved, as shown on this graph: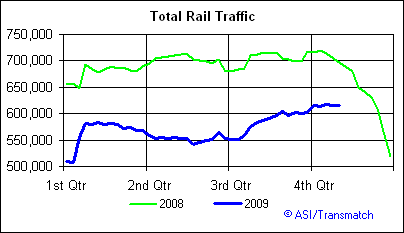 This is a very bullish sign for the economy.