I have been speculating the Fed's announcement last Friday essentially
placed a floor under stock prices (at least for now).
So the question now becomes where will the money go?
It won't be financials. The market has sold-this sector off and there is no reason to think this trend won't continue. Analysts are lowering their earnings estimates for a variety of industry players, there is concern about the commercial paper market, and the mortgage market is in turmoil. Traders have been selling this area of the market for the last few months and there is no reason to think this trend won't continue.
Health Care is a possibility. While this sector broke a two year uptrend in the last market sell-off --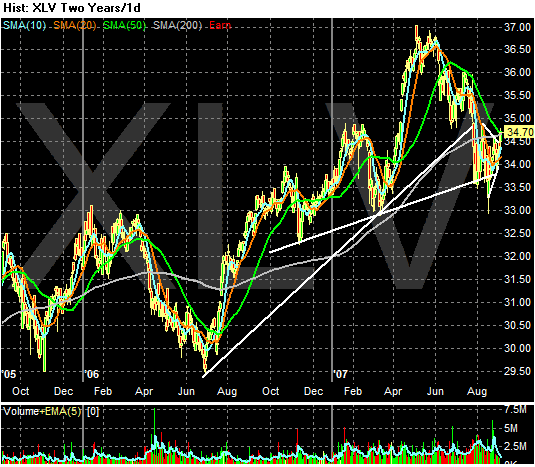 It is currently sitting on a a shorter trend line. In addition, this is considered a safer market area to invest in. People are always getting sick. While this area isn't as sexy as the latest IPO, that's the point. As market participants start to look for possible safe havens this sector may benefit.
There are two other areas that look interesting. The first is the industrials/basic materials play. India and China are still growing. Other regions are as well. The dollar is cheap. Take all of these factors together and you have a recipe for higher earnings. Both the Industrials (XLI) and basic materials (XLB) sectors have sold-off to technically meaningful levels. Price action over the last few months may have formed a cup and handle formation, possibly signaling more upward movement. My guess is the latest sell-off is simple profit taking in a choppy market. It's important to look for companies that have international exposure here.
Industrials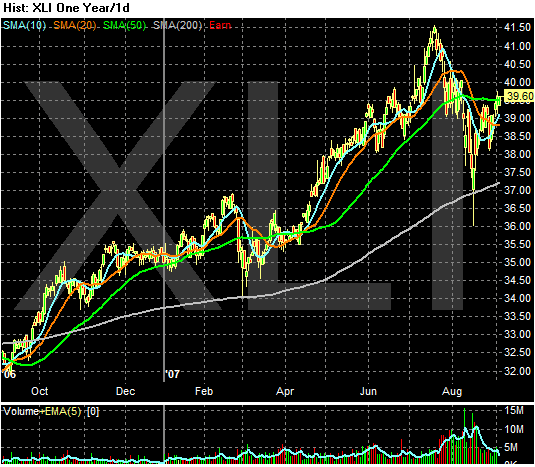 Basic Materials.
Finally, there is tech. It has been
forever
since I have said tech looks good. But the charts are showing these sectors are starting to see some action. In addition, there isn't any mortgage exposure. Assuming the rest of the world continues to grow, this sector may benefit.
Tech ETF
QQQQs