From This Week In Petroleum:
For the first time since May 21, the U.S. average retail price for regular gasoline rose, increasing 2.2 cents to 298.1 cents per gallon as of July 9, 2007. Prices are 0.8 cent per gallon higher than this time last year. Regional prices were mixed with East Coast prices dropping 0.1 cent to 292.4 cents per gallon. The largest rise was in the Midwest, where prices jumped 9.1 cents to 304.5 cents per gallon. Prices for the Gulf Coast increased 0.7 cent to 285.8 cents per gallon. In the Rocky Mountain region, prices fell 3.1 cents to 306.6 cents per gallon, although they remain 17.9 cents per gallon above last year. West Coast prices were down 2.6 cents to 308.0 cents per gallon. The average price for regular grade in California was lower by 2.1 cents to 313.6 cents per gallon.
Here is a chart of gas prices from the same report: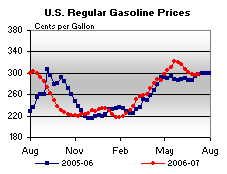 Note that prices increased at the same time this year as last year. But, this year's prices were consistently higher than last years prices. This year's prices continued to rise into May, decreasing to current levels starting in about June.
In other words, the economy has now had about 6 months of gas prices that were higher than last year's prices, although year to year comparisons are currently near parody.
How has this impacted wages? According to the Bureau of Labor Statistics, the average hourly earnings of production workers increased from $17.16 to $17.29 from January to June, or an increase of .75%. Over the same period, the overall inflation level increased from 202.416 to 207.949 or an increase of 2.73%, for an overall drop of 1.98%.
Here's a chart of energy prices from the St. Louis Federal Reserve.
It looks like energy prices hit earnings pretty hard.