- by New Deal democrat
New jobless claims continue to be the most important weekly economic datapoint, as increasing numbers of vaccinated people and outdoor activities have led to an abatement of the pandemic - new infections are the lowest in 9 months, and deaths are at their lowest point in a year.
Eight weeks ago I set a few objective targets for new claims: to be under 500,000 by Memorial Day, and below 400,000 by Labor Day. Subject to revisions, this week we hit the first target, as seasonally adjusted claims declined 92,000 to 498,000.
On a unadjusted basis, new jobless claims declined 107,390 to 504,670. The 4 week average of claims also declined by 61,000 to 560,000. All of these were new pandemic lows.
Here is the trend since last August: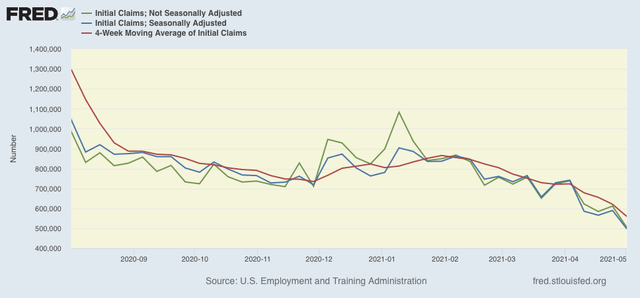 To put these in perspective, last year in March and April we were seeing news claims on the order of 6 million to 7 million per week! On the other hand, the current level of claims was typical of recessions in the 50 years prior to the pandemic: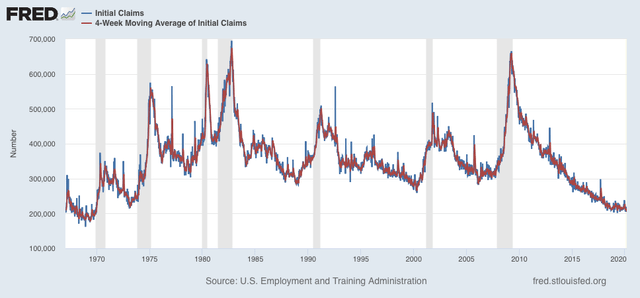 Continuing claims, which are reported with a one week lag, and lag the trend of intitial claims typically by a few weeks to several months, rose slightly off last week's pandemic lows. On an unadjusted basis, they rose 2,533 to 3,786,096, while after seasonal adjustment they increased 37,000 to 3,690,000: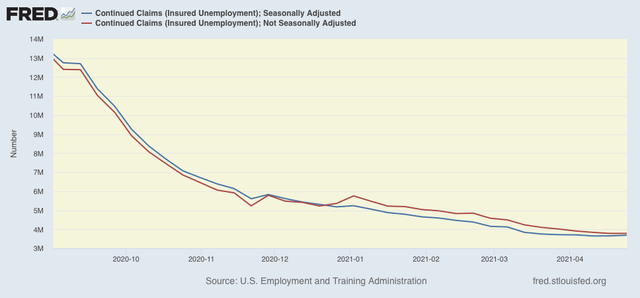 The long term perspective again shows that these are equivalent to the worst levels of most previous recessions: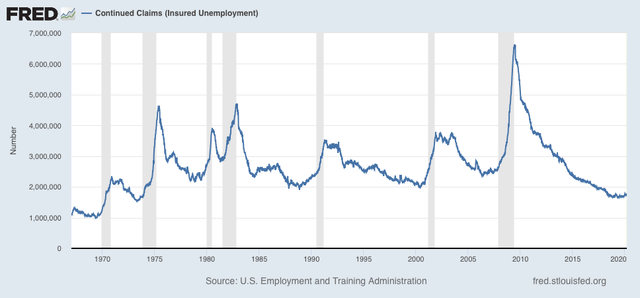 Tomorrow I expect the April jobs report to show a gain of well over 1,000,000 jobs, and possibly closer to 2,000,000. And because this week's jobless report will be part of May's reference period for jobs, it bodes well as a starting point for next month as well.