-
by New Deal democrat
This morning's new single home sales report for January came in at the highest level since July 2007. As a brief reminder, this series is probably the most leading of all housing data, but it is extremely volatile and heavily revised, so as always take this initial number with a grain of salt.
In any event, here is a graph covering the last nine years since the bottom, showing sales (blue), single family permits (red, *.7 for scale), and inventory of new homes for sale (green, *2 for scale):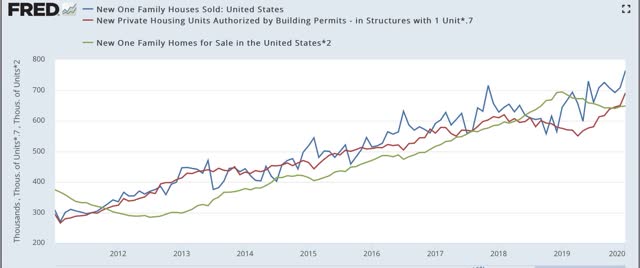 Both permits and sales are at new expansion highs. The difference is that permits are *much* less volatile. Note that inventory, as always, is lagging, being slightly above its bottom this past November.
I'll have a much more extensive look up at Seeking Alpha later, and will link to it here. For now, the takeaway is that, except for the very real concern about coronavirus, housing strength would completely negative a recession in the near future.