- by New Deal democrat
As I type this, the consensus is still for a payrolls gain of about +150,000 tomorrow. Based on the poor performance of initial jobless claims in the last month, I am expecting a considerably poorer report, on the order of only +50,000. I base this on the difference between how payrolls behave in the face of rising initial jobless claims vs. falling claims.
Below is an update of my scatter graph comparing initial jobless claims vs. nonfarm payrolls that I first ran several weeks ago. I included the deterioration in jobs leading up to and into the recession in red. Note how the red line traces a very different path than that of the recovery: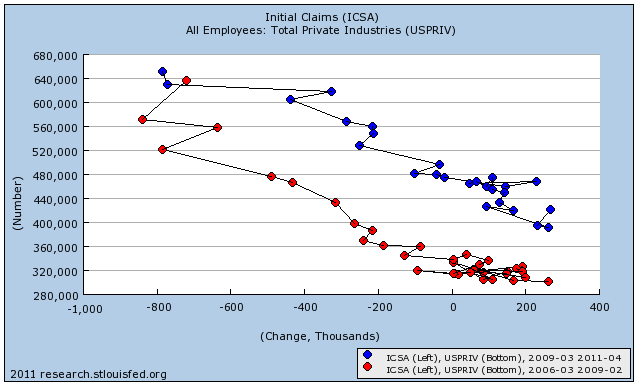 This is why I dismissed the straight line Prof. Delong drew at 400,000 jobs as the dividing point between job growth vs. losses. It simply makes a world of difference whether you are deteriorating into recession, or in recovery coming out of recession, leading to very different scatterplots as above (the same pattern is true for every other postwar recession).
But how should we expect jobs to behave in the face of seriously climbing initial claims? We only have one true example, of a double-dip, and that is the failed 1980 recovery turning into the 1981-82 recession. Here is the scatter graph for that double dip, showing the abortive recovery (blue) and the double-dip (red):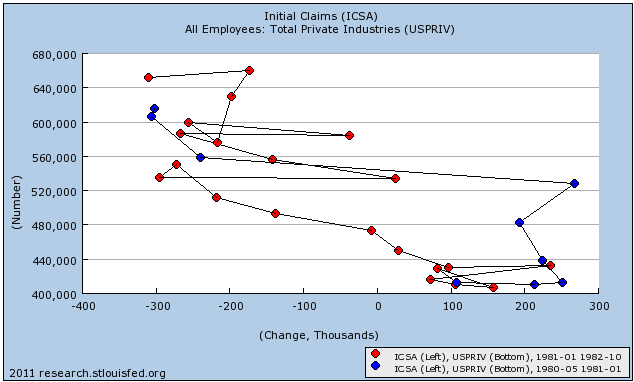 Even with the "summer stall" last year, where GDP only fell to +1.7%, nonfarm payrolls fell into and remained in 5-digit territory. Hence my expectation for tomorrow is that nonfarm payrolls retreat into 5 digits.
If that happens, watch Oil and see if it falls to a new post-April low. Only the real fear of a double-dip will cause the chokehold to loosen.