-
by New Deal democrat
This week, for the first time, the weekly indicators flashed a warning about the sustainability of consumer spending.
Let me get right to the most important news, which is shown in the graph below. Here's demand for gasoline for the last two years from the
E.I.A.
: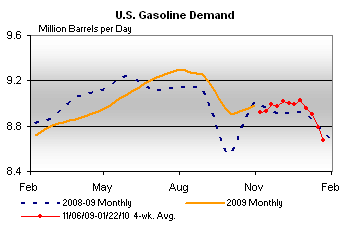 While gasoline stocks are considerably higher than normal (separate graph,not shown), for the first time, gasoline usage is DOWN from the same time a year ago, indicating that the price of gasoline is taking a toll on the economy. Prices at the pump did back off slightly last week. You may recall a couple of weeks ago I called the Oil the "Joker in the Deck" that could derail growth and cause a double-dip contraction later this year.
Another yellow flag comes from weekly reports of retail sales. The
ICSC
reported that same store sales decreased 2.5% from the week prior, but more importantly were only up 1.9% from a year ago. For the 4 weeks of January, YoY sales are up an average 2.2% -- about 0.5% less than the likely CPI increase. ICSC itself "expects same-store sales for January to be up by about one percent," which is even worse.
Similarly
ShopperTrak
"reported that year-over-year ... retail sales slipped 2.5 percent for the week ending January 23 while sales increased 4.5 percent versus the previous week ending January 16."
You may recall that
Edmunds.com
sounded very cautious about January auto sales last week. We may get an unpleasant January real retail sales number.
The
BLS
reported that initial jobless claims declined to 470,000, a decrease of 8,000 from the previous week. The 4-week moving average increased slightly again to 456,250. I am not concerned by this as it most likely indicates an overly aggressive seasonal adjustment in the later part of December and in no way compromises the downward trend from last April. Another couple of weeks should tell.
Railfax
reported that cyclical rail traffic rose seasonally and is also up about 10% from last year. Intermodal and total traffic are both also up slightly. Baseline traffic remains significantly below even last year's depressed levels. This is similar to the pattern coming out of the 2001 recession.
Finally, the
Daily Treasury Statement
for the month through January 28 shows $132.8B withholding taxes paid this year vs. $142.9B a year ago, a decline of about 7%. I continue to believe that the seasonally adjusted bottom for withholding taxes was probably in October.