From Bloomberg:
U.S. employers cut jobs in June for a sixth consecutive month as soaring fuel prices and a slowing economy forced companies to reduce costs.

Payrolls fell by 62,000 after a 62,000 drop in May that was greater than initially reported, the Labor Department said today in Washington. The jobless rate remained at 5.5 percent after jumping in May by the most in two decades.

.....

The June figures brought total job losses for the first half of 2008 to 438,000. In 2007, the economy generated 91,000 jobs a month on average. Revisions subtracted 52,000 from payroll figures previously reported for April and May.

.....

Another report from the Labor Department today showed initial claims for jobless benefits rose by 16,000 to 404,000 last week. The total, higher than economists forecast, brought the four-week average to the highest since October 2005, just after Hurricane Katrina. The total number of people collecting benefits dropped to 3.116 million from 3.135 million.
None of this is good news. Let's go to the report to see what
it says:
Nonfarm payroll employment continued to trend down in June (-62,000), while the unemployment rate held at 5.5 percent, the Bureau of Labor Statistics of the U.S. Department of Labor reported today. Employment continued to fall in construction, manufacturing, and employment services, while health care and mining added jobs. Average hourly earnings rose by 6 cents, or 0.3 percent, over the month.
The unemployment rate held steady. Last month when we got the big jump in the unemployment rate all the hacks out there (what Barry over at the Big Picture calls the "Pervasive Pollyannas of Prosperity") said it was all about the jump in youth unemployment and that the number would go back down. Well guess what -- the number didn't go back down.
Ladies and Gentleman -- this is a terrible report.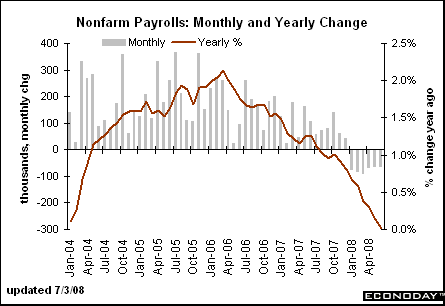 The year over year number is still decreasing, and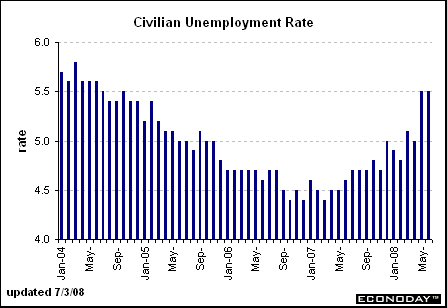 The unemployment rate is still increasing.
Short version: things are getting worse, not better.