More bad news on the inflation front. First, oil crossed the
$115/bbl mark
for the first time. Gasoline also settled at a
record price
(the dollar falling to a
new low
versus the euro didn't help matters). We also learned the year-over-year CPI rose
4%.
Housing continues to struggle as housing starts fell to their
lowest level
in 17 years. And in the financial world, JPM Morgan's earnings dropped
50%
and there are rumors that Merrill's writedowns this month could total
$8 billion.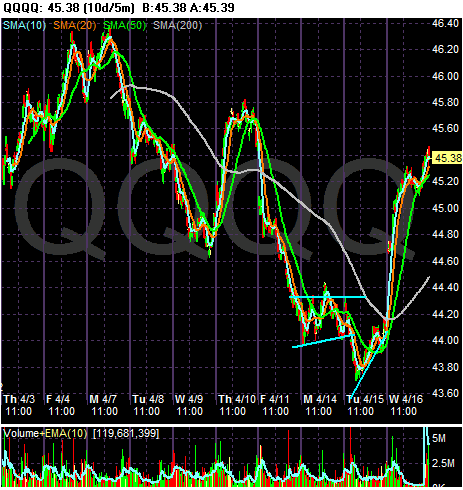 I'm using the 10-day chart to put today's rally in perspective. First, the market has been dropping since April 7. In baseball parlance, "we were due." Also note that in one day the market rallied enough to wipe out 50% to 75% of the drop. That means the market was probably oversold; traders were just looking for a reason to buy. Bottom line -- pulling the view point back to a longer perspective and we can see this wasn't the best rally out there. Now -- if we see the market continue to make strong moves like this over the next few weeks, then we'll be onto something.