From Bloomberg:
The dollar fell the most in a week against the euro after former Federal Reserve Chairman Alan Greenspan said the U.S. currency will probably keep dropping until the nation's current-account deficit shrinks.

The U.S. currency has lost 10.5 percent this year versus the euro as investors bet the European Central Bank would lift interest rates more than the Fed. The dollar fell three of the past four years. It's imprudent to hold everything in one currency, Greenspan also said. He spoke via satellite to a conference in Tel Aviv.

``The dollar is heading where the current account deficit goes,'' said Tim Mazanec, senior currency strategist at Investors Bank & Trust Co. in Boston. ``A widening deficit will cause the U.S. more pain.''
From Reuters:
The dollar reversed course on Monday and fell against the euro after former Federal Reserve chief Alan Greenspan said he expected U.S. currency weakness to last "a few years."

The dollar was already under pressure as traders took profits on Friday's post-payrolls rally, but Greenspan's remarks via video conference to a business meeting in Tel Aviv helped the euro break a three-day losing streak.

"What we're hearing from Greenspan is reinforcing the view that the dollar has further room to fall. We got positive news on Friday, but it's certainly not enough to reverse the trend," said Greg Salvaggio, vice president of trading for Tempus Consulting in Washington D.C., referring to U.S. November jobs data.
Here's a graph from the St. Louis Fed of the US trade deficit: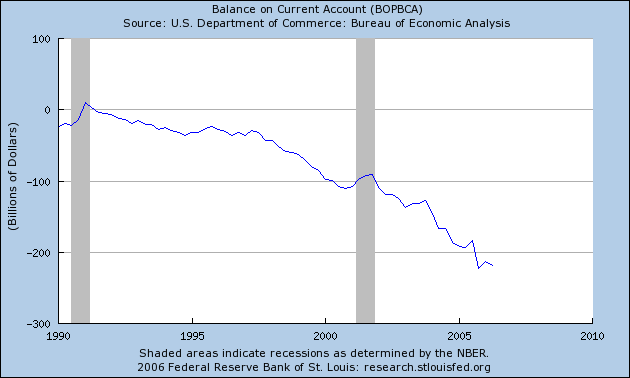 For the last few years China, South Korea, Japan, Russia and several smaller countries on several continents expressed a desire to diversify away from the dollar. The reason is simple. So long as the US imports far more than it exports, it has to either spend money from its national savings or borrow money for abroad to pay for its trade deficit. Because the US is a low-savings country, we have to borrow from abroad. Here's a chart from the St. Louis Fed of total US debt held by foreigners:
The total amount has nearly doubled in about 4 years. Stirling Newberry states the situation this was: "The US is renting money from the Chinese". This is basically how the US is financing its standard of living right now.
There have been several theories advanced that tried to minimize the trade deficit reality. None of these theories stands up to strict scrutiny.
The problem is this may limit the Federal Reserve's ability to lower rates in the coming year if the US economy continues to slowdown or goes into a recession.

In other words, trade deficits matter.