-
by New Deal democrat
Sorry for the lack of posting. Partly it reflects the normal monthly lull in data that occurs around this time, but it also reflects the suspension of some data series, like housing permits and starts, due to the government shutdown. Add to that some traveling and, well, there you have it.
Speaking of the shutdown, normally I don't pay much attention to existing home sales, but with the lack of other housing data, this is the closest we have to a decent snapshot of the market during December.
Existing-home sales ... decreased 6.4 percent from November to a seasonally adjusted rate of 4.99 million in December. Sales are now down 10.3 percent from a year ago (5.56 million in December 2017).
Lawrence Yun, NAR's chief economist, sa[id] "The housing market is obviously very sensitive to mortgage rates. Softer sales in December reflected consumer search processes and contract signing activity in previous months when mortgage rates were higher than today. Now, with mortgage rates lower, some revival in home sales is expected going into spring."
The median existing-home price for all housing types in December was $253,600, up 2.9 percent from December 2017 ($246,500).
I think Yun is correct here. This was the lowest number of existing sales in 3 years, and the lowest but one month in 4 years. Meanwhile, in the last 4 months of 2018, mortgage rates were at their highest in over 5 years: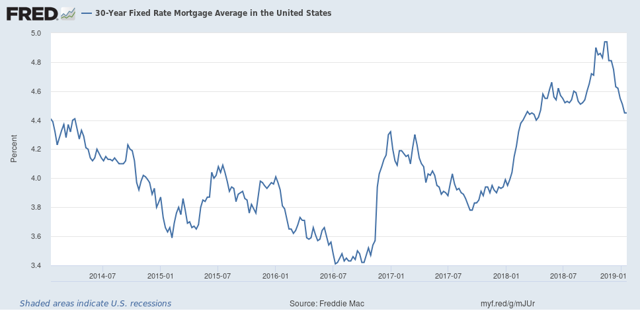 while home prices have continued, by most surveys, to increase.
The good news in the report is that the YoY price increase was less than the increase in median household income as reported by Sentier Research for 2018, which makes houses slightly more affordable. And the decline in mortgage rates this month, if it is sustained, should help put a bottom under sales — a plus for the overall economy.