-by New Deal democrat
The Federal Reserve's report on household debt burdens was released Wednesday covering the October - December quarter. and after 5 years of rapid decline, one of the two series set a new record low.
According to the bank,
The household debt service ratio

(DSR) is an estimate of the ratio of debt payments to disposable personal income. Debt payments consist of the estimated required payments on outstanding mortgage and consumer debt.

The

financial obligations ratio

(FOR) adds automobile lease payments, rental payments on tenant-occupied property, homeowners' insurance, and property tax payments to the debt service ratio.
I've combined the two measures into a single graph: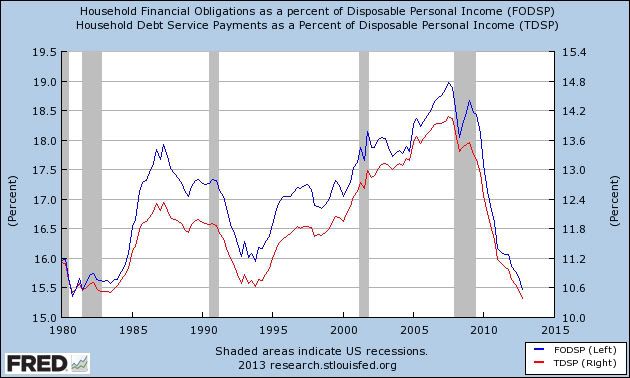 Total financial onligations (blue line) are now less than at any time since 1982. More impressively, debt service payments (red line) have established a new all-time record low.
Last year
CNBC reported that
:
U.S. home owners are refinancing their mortgages at the fastest clip since 2005, but the difference now is they are putting cash in, not taking it out.

At the going rate, 25 percent of all first-lien U.S. mortgages will be refinanced this year, according to LPS Applied Analytics. That represents about $7.1 billion —just through June of this year — in savings on monthly payments, according to economists at Freddie Mac, who ran the numbers for this report.
This equates to about 0.6% of all retail spending per month.
I long suspected that, before this cycle was over, households would set new all time lows for debt service. That has now happened for debt service payments, and is likely to happen as to total financial obligations in the next two reports. As I have noted a number of times, refinancing has increased in the last year or so with new record lows in mortgage rates, and has probably played a major role in keeping the economy from tipping back into recession.