. - by New Deal democrat
With the exception of weekly indicators, normally we don't post over the weekend. But this is too significant in my opinion to wait until Monday.
Employment can be broken down into private vs. public sector, and the private sector can be further divided into goods-producing vs. services. The simple fact is, that with Friday's employment report, private service sector jobs have made up their entire losses from the Great Recession. Ninety percent of the remaining job losses are concentrating in the goods-producing construction and manufacturing sectors, with the remaining 10% from government job cuts.
At their last peak in January 2008, there were 94,443,000 private sector service jobs. 4,723,000 were lost in the recession, bottoming in December 2009. As of yesterday's report, there were 94,239,000 such jobs. This is still 204,000 short, but that isn't the end of the story.
A few months ago, the BLS announced its
first benchmark revisions
through March 2012. These revisions showed that there were 393,000 more private service sector jobs through March than had been previously reported (blue in the graph below). They won't be added on to the official monthly numbers until next February, but when we include them (red), we now have 94,632,000 private service jobs, or 189,000 above the high tide mark at the beginning of the last recession: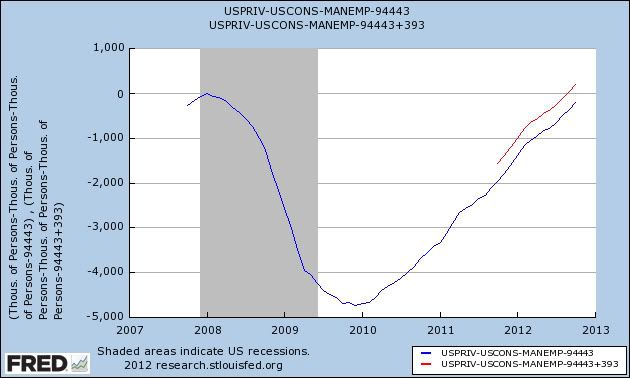 We're still about 2,800,000 total jobs below the peak before the last recession, but that entirely consists of government jobs (green), manufacturing (blue), and construction (red):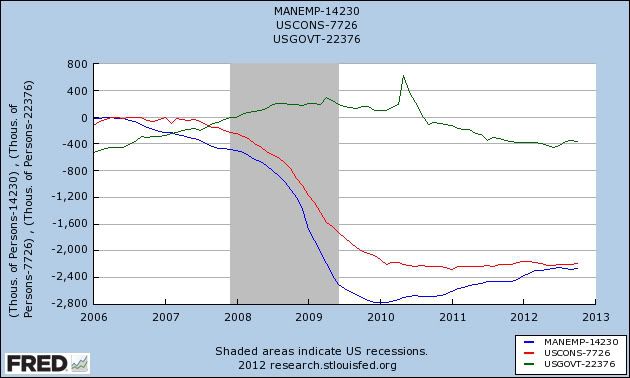 Government jobs are still off 365,000 from their peak of April 2009. Manufacturing employment, which plateaued briefly in the last expansion at 14,230,000 in April 2006, lost 2,772,000 jobs until bottoming at 11,458,000 jobs in January 2010. Construction employment peaked in April 2006 at 7,726,000 jobs and shed 2,270,000 jobs before making a bottom in January 2011.
If the current trends continue through November and December, the entire service sector including government will have recovered all jobs lost in the recession. [UPDATE: Just to be even more clear, here is a graph of all nonfarm payrolls, excluding only manufacturing and construction (blue), plus the benchmark revisions (red):]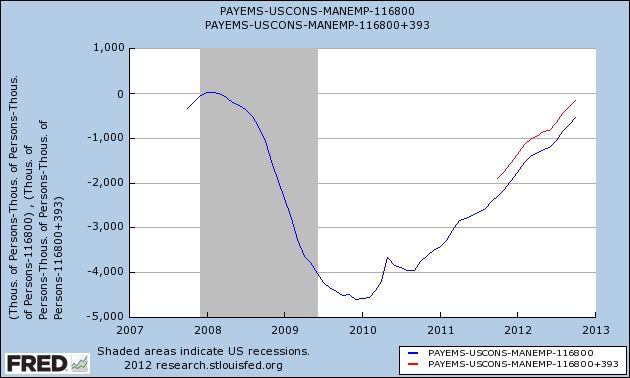 Manufacturing and construction employment remain the epicenter of an ongoing jobs depression in the goods producing sector.