- by New Deal democrat
Barry Ritholtz made the excellent point over the weekend that pundits who are "frequently wrong, but never in doubt" always have the biggest followings-- the ideologues will always present their case with religious zeal, and the acolytes will loudly proclaim their agreement, while the sensible muddle-through observers typically see no need to get involved. Zero Hedge proclaimed that "ex-McDonalds, ex birth death" there were no jobs last month (never mind that McDonald's hiring came after the week the BLS collected the data). CR was so exasperated he issued a rare direct rebuke. Mish's L-shaped recovery is long gone but he is still one of the top three followed bloggers. And the DK Pied Piper of Doom, whose blown prophecies in the last two years literally number over 100 (I've kept book), can't even bring himself to acknowledge the best month of private hiring in over half a decade - and the commenter who finally did so was ignored, by an audience who does not want to hear such news.
Well, on this blog Data is King, and we are all about nuance. So here are two notes of interest about Friday's employment report.
First, the growth in aggregate hours continues, and continues to be faster than the growth in jobs. Aggregate hours have clawed back 1/3 of the ground they lost in the recession:
This is a long, hard slog, but if the trend continues, by the end of next year hours should have made up all of their comparative lost ground vs. jobs, at which time I would expect growth to directly translate into jobs.
Second, below is an update of my scatter graph comparing initial jobless claims vs. nonfarm payrolls. This time I've included the deterioration in jobs leading up to and into the recession in red. Note how the red line traces a very different path than that of the recovery: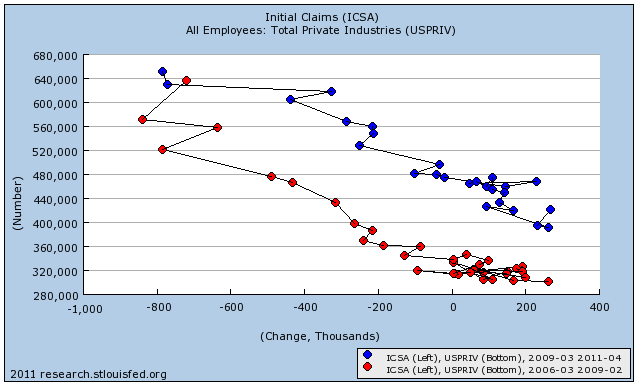 This is why I dismissed the straight line Prof. Delong drew at 400,000 jobs as the dividing point between job growth vs. losses. It simply makes a world of difference whether you are deteriorating into recession, or in recovery coming out of recession. The pattern seems to be:
- going into recession: (1) hiring stops; then (2) layoffs begin.
- coming out of recession: (1) hiring begins in new sectors; then (2) layoffs in the declining sectors stop.
leading to very different scatterplots as above.
But what happens if the recent increase in initial jobless claims presages a "double-dip"? How should we expect jobs to behave? We only have one true example, and that is the failed 1980 recovery turning into the 1981-82 recession. Here is the scatter graph for that double dip, showing the abortive recovery (blue) and the double-dip (red):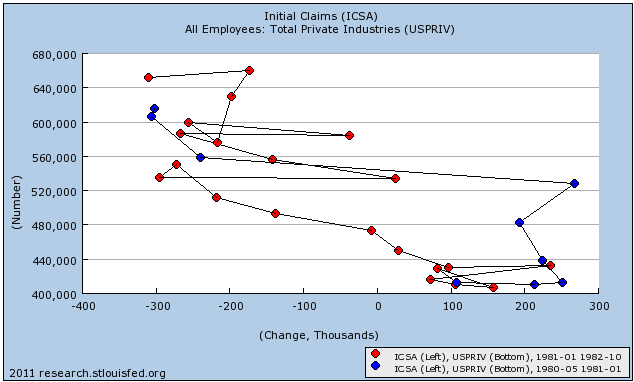 I do not foresee a double dip at this time - just a one or two quarter stall. But if there is to be a double dip, you should expect nonfarm payrolls to retreat into 5 digits and then negative numbers in short order.