From the Street.com
This past weekend brought a big surge of traffic, but not enough to make up for the lack of sales throughout the holiday season, industry observers say. As a result, retailers will have to cut their prices deeper -- driving down profit margins -- and keep their doors open longer to gain some ground in the home stretch.

.....

Britt Beemer, chairman of America's Research Group, expects holiday sales to increase only 1.8% this year, his lowest forecast in over 10 years.

Even with deeper discounts this week, Beemer is skeptical that retailers can make up for the traffic they lost all season.

.....

Although Black Friday, or the day after Thanksgiving, generated a 4.8% increase in traffic, industry watchers say things have tapered off considerably since. The first two weeks of December saw a lull, and only now are the crowds starting to come back.

.....

And the peak of the season is still to come. This Saturday is expected to be the busiest shopping day of the year for retailers, eclipsing Black Friday.

Chen expects those retailers who have been promoting all along will continue promoting, including in the women's apparel sector, which saw soft sales even before the holiday season began.

.....

Even online sales seem to be losing some traction. According to research firm, comScore, online retail spending has grown more than $22 billion between Nov. 1 and Dec. 14, which marks an 18% climb. While that still represents a record level, it is less than the 26% increase during the same period last year.

.....

"The current economic realities appear to be having a negative impact on the growth in consumer spending," said comScore Chairman Gian Fulgoni in a statement. "From the subprime housing meltdown to a decline in home values to higher gas prices and an uncertain stock market, many consumers across all income segments are either feeling the pinch this holiday season or are lacking the confidence to spend at the rate they had in the past."
Remember that big discounts = lower profit margins.
I should also make the following cautionary remarks.
1.) Americans love to shop and will do anything to continue shopping. That means that while there is still time before Christmas it's possible consumers could pick-up the pace.
2.) I would extend the "Christmas shopping season" to sometime in January because of gift cards and the heavy, post-Christmas promotions we have seen of the last 5+ years. It's standard to see all sorts of new year's bargains.
3.) All that being said, there are plenty of reasons for consumers to pull in their spending wings right now. The housing market is a mess, the economy has plenty of bumps in it, energy and food prices are high (and food prices are probably increasing) and in general people are very concerned about their economic environment. This is not a situation that encourages free-spending ways.
Is is a long-term chart of retail sales
from econoday.
Although there was a decline in the year-over-year number from January 2006 to mid-2007, the number has been increasing of late. Some of that is probably due to lower year on year comparisons and price inflation. However, there have been some nice increases on a monthly basis as well, as indicated by the gray lines representing monthly changes.
Let's go to the charts to see what traders think about the retail sector: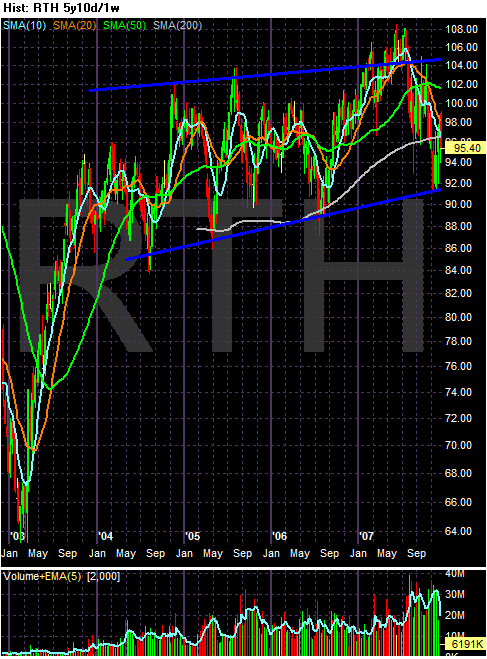 On the 5-year, weekly chart we see a pretty tight trading range of 10-15 points. In other words, despite the pretty strong retail sales numbers from above, traders have been lukewarm about the retail sector for the duration of this bull market. That's pretty interesting because the fundamentals would indicate this is a good area of the market.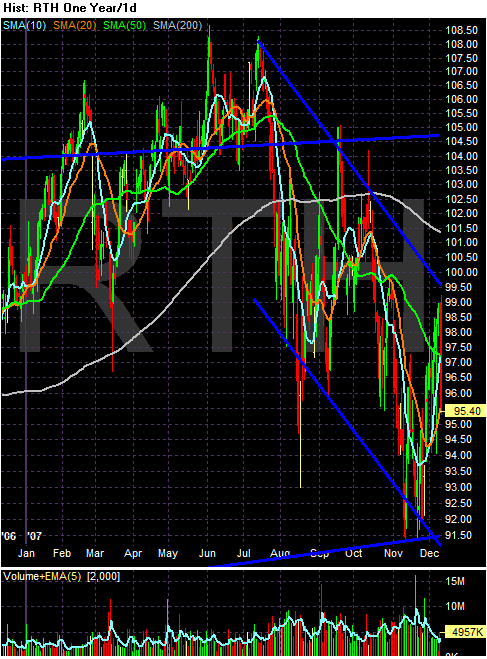 On the daily chart, notice that starting in July, the market went into a classic bear market chart of lower lows and lower highs. While the beginning of this sell-off in retail coincided with the market's first big subprime hit when Bear Stearns announced massive losses, the index has failed to rally with the market.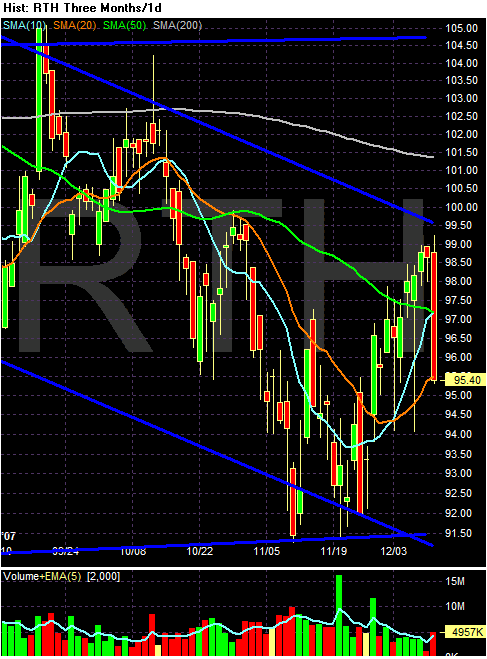 The 3-month chart shows the moving average picture. Notice that:
1.) We're below the 200 day SMA.
2.) The 200 and 50 day SMA (longer-term trends) are down.
3.) The shorter term trends are rising.
4.) The SMAs are bunched up, with conflicting short and long-term signals.
Short version: according to traders, retail isn't looking that hot right now. While the shorted SMAs indicate we could be getting a short-term upswing, the long term trend is down.