Raise your hand if you don't use food or energy. Now that we have that silliness out of the way......
From the WSJ:
Wholesale prices in the U.S. rose sharply for a fourth straight month in May on higher energy prices. But outside the volatile food and energy sectors, prices remained largely contained, suggesting that while inflation remains a risk, it doesn't appear to be taking hold.

The Labor Department said the producer-price index for finished goods rose 0.9% in May, up from a 0.7% gain in April and well above economists' expectations. The core PPI, which excludes food and energy, was up a more moderate 0.2% after holding steady the previous two months. In the 12 months through May, wholesale prices rose 4.1%, the largest increase since June 2006. In contrast, the core PPI was up just 1.6% from a year ago.

The PPI report comes on the heels of a sharper-than-expected rise in May import prices. The key question is whether higher import and wholesale prices will seep into consumer prices -- a trend that could prompt the Federal Reserve to hit the economic brakes by raising interest rates.
Here's a chart of the core/total PPI numbers from the same article: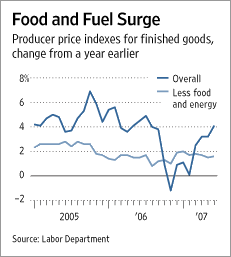 The Fed has a core inflation rate target of 1%-2%. At this point, I am wondering if that level is even possible. We have a global economy that is increasing in size. That means there is a lot of competition for all sorts of resources. All of the competition will drive costs up. It's that simple.