- by New Deal democrat
Initial unemployment claims jumped about 80,000 last week to 439,000. This is almost certainly an outlier due to Hurricane Sandy, which disrupted both the NYC and Philadelphia metro areas with a combined population of about 30 million people, or almost 10% of the entire country's population.
The exact same thing happened after Hurricane Katrina, which struck at the end of August in 2005. Here's the graph of initial claims starting with January 1, 2004: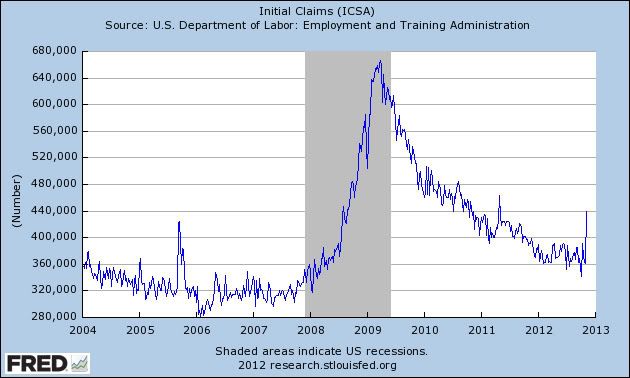 See that spike of about 120,000 late in 2005? Those are the first two full weeks in September, right after Katrina. After that claims returned to their more typical readings.
This spike of 80,000 isn't quite so bad. If after a couple of weeks it hasn't returned below 380,000, then I'd be concerned. This week's increase isn't worth worrying about.