From Marketwatch:
*

Home builders are gradually becoming more hopeful, even though surveys show most builders are still very discouraged. The builders' housing market index has risen in four of the past five months.
*

Housing starts have increased in four of the past five months after tumbling to a postwar record low. Building permits for single-family homes have risen at a 109% annual rate over the past three months.
*

Sales of new single-family homes have risen three months in a row after falling to a record low in March.
*

Sales of existing homes have risen four of the past five months, supporting by a government subsidy for first-time buyers and by sales of foreclosed homes.
Several people including myself have made the same observation. The pace of home sales appears to be stabilizing at low levels. There are three reasons for this.
1.) The $8000 first time home buyer tax credit is attracting buyers.
2.) Interest rates are still low
3.) Homes are affordable by historical standards right now.
Here's a chart of new home sales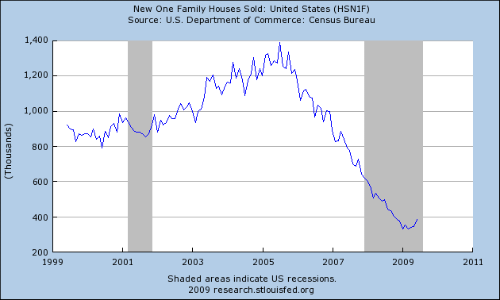 And here's a chart of existing home sales.
Now - it's a different story for home prices which are still going to be dropping for the foreseeable future. Consider this chart of the Case Shiller home price index: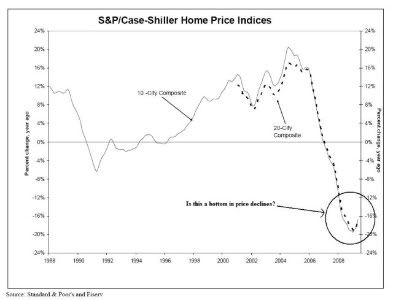 Home prices are still dropping. The last time this series of numbers printed we actually saw month to month price increases in a majority of cities: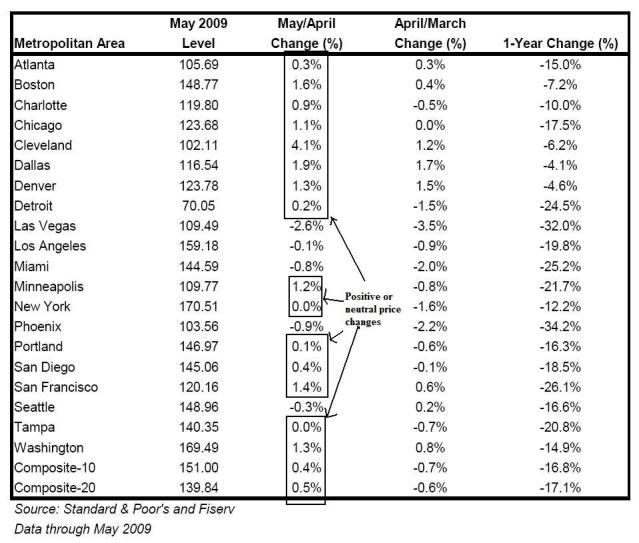 Click for a larger image
That was the first month to month increase in some time so calling it a trend is not possible. But the increase was a welcome change from the continuing decrease we've seen.
Bottom line, I still think Calculated Risk is right -- we'll see two housing bottoms. The first is in sales which we are already seeing and a second in prices which is still a ways off.